This is what you need to know about choosing wall colors if you have Sherwin-Williams Alabaster SW 7008 on your doors and trim.
We'll use a color wheel because it illustrates color relationships.
Featured in the image below is a custom color wheel called The Color Strategist Color Wheel that I created; it's the core of the system I designed for choosing colors.
You can learn how to use The Color Strategist Color Wheel and everything you need to know about how color really works in my Camp Chroma online color training program. Click here to enroll.
As you can see on the color wheel, Alabaster belongs to the yellow hue family – pretty much smack dab in the middle of the yellow hue family.
CLICK to Purchase Colorography PDF for only $0.99
(PDFs are color managed for best printed results possible)
If you partner Alabaster with near neutrals from the same yellow hue family, you have to be super careful about managing the chroma.
Chroma is the amount of perceivable grayness in a color. In other words, chroma is about how gray vs. vivid a color looks.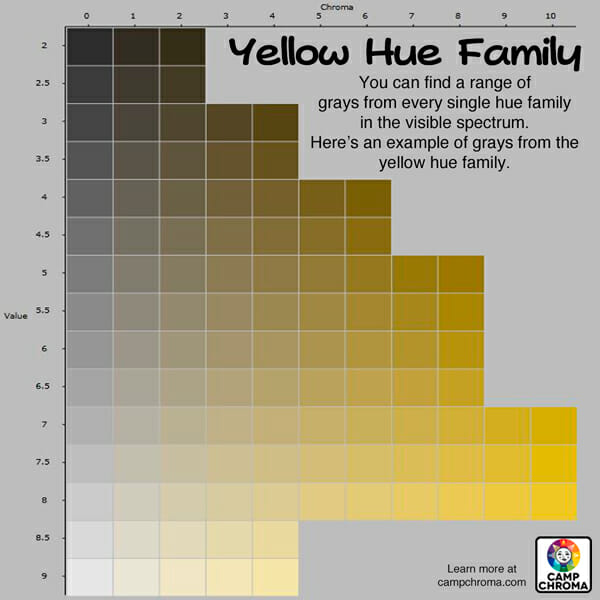 A near neutral wall color from the yellow hue family would have to be more gray than Alabaster.
Some examples are Titanium 2141-60 from Benjamin Moore or from Sherwin Williams, Crushed Ice SW 7647.
That's how you make Alabaster cabinets, doors and trim look brighter and whiter in comparison — because Alabaster literally is brighter and whiter than your grayer near neutral wall color.
Going back to the color wheel, near neutrals from hue families opposite (ish) yellow will help Alabaster 'pop' as cleaner and brighter.
Managing the grayness, choosing colors that are more gray than Alabaster isn't such a priority using this strategy.
Because contrast of hue will do all the heavy lifting to make Alabaster look more crisp in comparison.
In other words, it's harder to make near neutrals from Alabaster's own and neighboring hue families work so Alabaster doesn't look muddy.
The easier strategy is to choose near neutrals from hue families farther away as illustrated in the above image.
For example, Sherwin-Williams Rhinestone SW 7656 or Evening Shadow SW 7662.
Or Ben Moore's Feather Gray 2127-60 or Genesis White 2134-70 would work too.