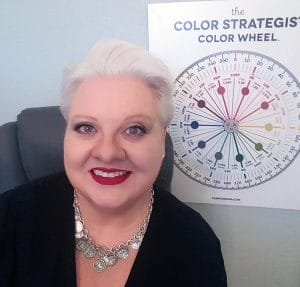 Who me? (some background info)
Hello! I'm Lori Sawaya.
I am a Color Strategist. What that means is my color design process is science based and I know how to use special color measurements (think of it as color DNA) to help homeowners and property managers choose the perfect colors. Whether it's paint or other finishes, interior or exterior, I will guide you to the right colors for your project.
Many are shocked to learn that you can measure color; that we can quantify how we see and experience color. So, let me tell you how all this started. I began my career in color more than 25 years ago as a graphic designer. I managed to talked myself into a job for which I was not totally qualified. Not many people were because it was the early 90's and full color printers had just been released to the mass market – no one knew what this new era of color had in store. What I did know for sure was the art department where I worked was getting new systems and color printers and I wanted in.
Immediately I was obsessed with the color management aspects of my job. I was lucky because the training was best-in-class and equipment state-of-the-art. I quickly learned how color really works and got to put my hard-earned color expertise into practice every day. After more than a decade in that job, I decided it was time to try something new. Inspiration came while Al, my husband, and I were building our first house.
Architectural Color Design and Specification was my new gig.
I've had my fair share of fun with color:
• CEO and Creator of Camp Chroma™ Color Training Programs
• Certified Architectural Color Consultant
• Recognized Authority on Color Order Systems
• Noted Expert on LRV (Light Reflectance Value)
• App Designer of LRV Guru™
• Inventor of SwatchRight™ Paint-Peel-and-Stick color sample decal
• Author of "Color Secrets Unlocked" Series
• Color Designer of the "Color Legends" palette including Haint Blue
• VP and Website Chair for the *IACC-NA 2011-2013
Color Strategist and *IACC-NA certified color expert specializing in architectural color consultation, color order systems, and colorimetry. Favorite color systems are Munsell, NCS, and The Master Palette found at The Home Depot.
*IACC-NA is the International Association of Color Consultants and Designers North America