Screencast – How To Reorder the Affinity Fandeck
Following up on my last post, it's time to get busy reorganizing the Benjamin Moore Affinity color fandeck. In the screencast below I walk you through the steps to reorder the colors by hue angle and hue family.
Whoops!
As mentioned in the screencast, I found a mistake in the original table of Affinity colors. While I was sorting the colors in preparation for this blog post, I noticed something didn't look right about the group of blue-green chips. Some looked too true blue and others had an edge of purple. After doing some recalculating, I discovered the problem was a typo. I pasted into the table "BG" instead of just a "B" for several colors. All the tables with Affinity colors have been corrected. Lesson learned is I should have pulled the chips and taken a look before I posted the data. Proves the point that you cannot color by just the numbers alone, you have to visually evaluate everything.
Color Tactic 1.0 – Harmony Within Hue Families
With all of the colors separated by hue angle and hue family you can see a certain flow from one end of a hue family group to the other. Even though Affinity is a small color collection, most of the hue families have a few whites and grays sprinkled throughout. At this point, you should be able to easily "eyeball it" and compose several harmonious color combinations within each hue family. We'll use the GY (green-yellow) hue family as an example. The first color in the order is Refined AF-75 (at 12 o'clock) and then the order continues clockwise around the circle ending with Lush AF-475.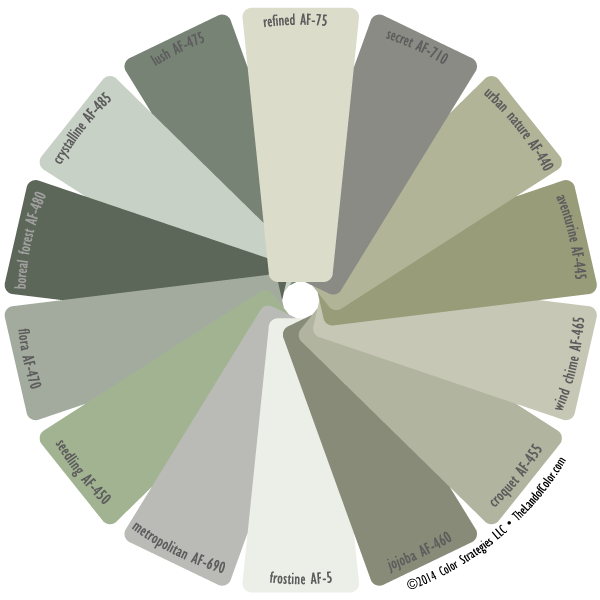 Once you get this far, you have many options available to create some stellar color harmonies. We're going to focus on just one option within this tactic. There are two colors that easily fit into the category of "whites": Refined AF-75 and Frostine AF-5. And there are two colors that easily fit into the category of chromatic grays or as most people call it "gray": Secret AF-710 and Metropolitan AF-690. All four colors have super low chroma, below 1.0. Which means they are four of the most "neutral" of this group. Refer to the Affinity Color Notations Table if you want to check out the chroma numbers. Crystalline AF-485 has a chroma less than 1.0 too but I chose not to include it in this example.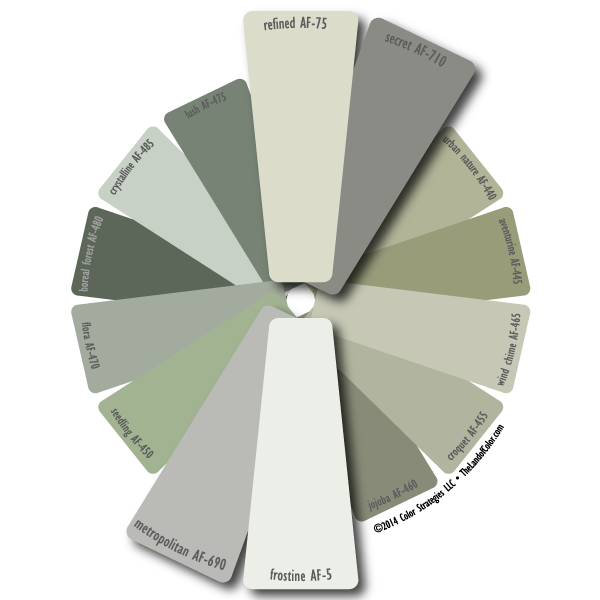 What this means is it is extremely probable that you can use these colors in any combination with the other colors in the hue family. For example, the two whites would make excellent trim or ceiling colors with any of the other colors in this group. Likewise, the two grays would provide an interesting "neutral" juxtaposition to any of the other colors. With just these 14 colors, you can workout numerous color combinations for interiors and/or exteriors that are almost guaranteed to be successful. I say "almost" because the light is boss. And embarrassed as I am about posting a table of data with typos, my mistake demonstrates WHY it's important to visually evaluate everything when you're using color notations to navigate color.
Keep in mind the color tactics you're learning here at The Land of Color apply to a whole lot more than just the BenM Affinity colors. Obviously, all this how-to information applies to the other hue families from the Affinity collection that you have sorted in front of you, but you can do the same thing with any color collection. We can even add-on another collection to the Affinity colors we've been working with – like the BenM Whites.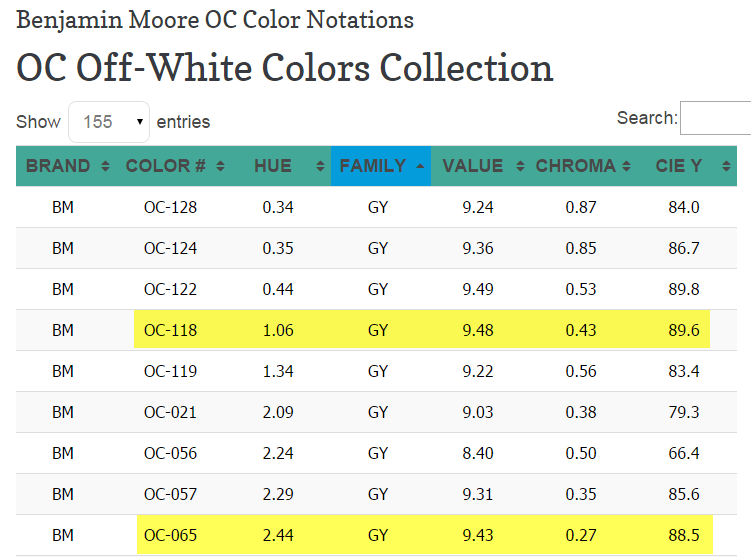 Maybe try out the new skills you just learned and cruise over to the Benjamin Moore Whites Color Notation Table. Sort the table by hue angle and hue family just like we did in the screencast. Pull a few of the whites (chips) that also belong to the GY hue family. Next, take a look at all the different combinations you can now make by adding on more whites to the Affinity GY hue family group. A few of my favorite picks to incorporate are Chantilly Lace OC-65, and Snowfall OC-118.
Finding the right white to go with anything and everything could not be easier. All you need is Color Tactic 1.0, Color Harmony Within Hue Families.
Amazing as that might be, you need to know we can deconstruct harmonies within hue families beyond what we've done in this post giving you even more options to create successful color schemes. We'll send you a bulletin directly to your inbox when additional posts on this topic go up here at The Land of Color. So, be sure to sign up in the top, right-hand widget to get alerts.
I hope you are/were able to "play along" and reorder the Affinity color chips because there's no doubt ordering color by notations will help you see color characteristics in a way you've never seen before. If this new approach to navigating color leads you to creating some fabulous color combinations, let me know or better yet share with everyone in the comments below. And as always, if you have questions, feel free to email, call, or ask in the comments.
You really can do this! Read these other blog posts and add to your color skill set.