. 
Online Color Consultations Can Work for You Too
Are you curious about how online color consultations work? Have you wondered how I am able to choose colors for your space long distance?
There are several ways to make online color consultations work and I'm going to outline one option in this blog post. We start with an initial conversation and I make note of everything you have going on with your project. In the example pictured above, my clients selected two Kraftmaid cabinet colors from The Home Depot. The flooring throughout the first floor is wood tone, porcelain, wide plank tile.
It's a remodel of an older home and the entire budget is going to the remodel right now. New Furniture and accessories will have to come later. Our goal is to create a well-color-coordinated 'envelope' of a space.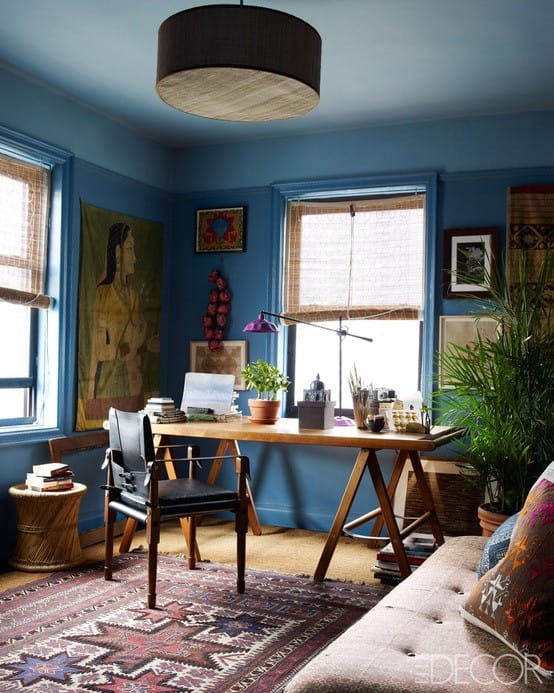 You Don't Need an Inspiration Piece
Having furniture or a rug or some sort of inspiration piece to pull colors from for wall color ideas is a good color strategy but not everyone is in a position to do it that way. For example, these clients doing a full remodel on a new-to-them older house.
So, it's a good thing that creating a harmonized envelope for future contents is a straightforward process. After the remodel is done, the kitchen will be large and connected to the great room, it's all one open space. The key, permanent elements to consider in creating this flexible envelope of color are floor and cabinet colors.
First order of business was for me to go to The Home Depot with my colorimeters and measure the cabinet colors. Even though my clients aren't in the same state as me, it doesn't matter because I have access to the same materials. If I don't have the exact color samples here at The Land of Color, I can easily acquire them.
Color Measurements Tell You the Hue Family
The main reason I measure the colors is so I can determine the HUE FAMILY for each of those important elements. I need to know because hue family informs what colors go together. In this case, we're choosing paint colors for the walls and trim. My job is to determine what paint colors will look best with the cabinet and floor colors and also make my clients happy.
You're probably wondering why I use different devices. The reasons I use a NIX Sensor and a Color Muse have to do with light and different devices will give you different results. The results from device to device will not be exactly the same – and that's a good thing. If the data is too perfect, device to device or sample to sample, that's when you should be suspicious. If you're interested in the technical details, you can also customize settings in each app before you measure your colors. One of those settings has to do with different colors of light called illuminants and they are named D50 and D65.
Change the Light, Change the Color
I like to evaluate the colors under different qualities of light because if you change the light you change the color. These two illuminants, D50 and D65, mimic average, common qualities of daylight. That means I'm able to OBJECTIVELY evaluate the colors of your material selections whether you're a block away or across the country. Efficient and easy – no guesswork on my end and no special picture-taking tasks on yours.
Using different devices gives me a good range of readings to evaluate. In addition, I can have the NIX Sensor app open on my phone and the Color Muse app open on my iPad at the same time so I can look at a lot of data all at once.
Let's talk about that data for a minute. What I mean by measuring the colors is these devices shine a controlled light source on to whatever it is I'm measuring. It can be a cabinet door, a tile, a swatch of fabric, a counter top, or just about anything.
Where Does Hue Family Come From?
Again, hue family is an objective piece of information that comes directly from the color itself.
The devices I use may be small, but they are mighty because they can differentiate colors the human eye isn't able to. They use a controlled and consistent light source to capture the wavelengths that physically make up the color. Here's how it breaks down: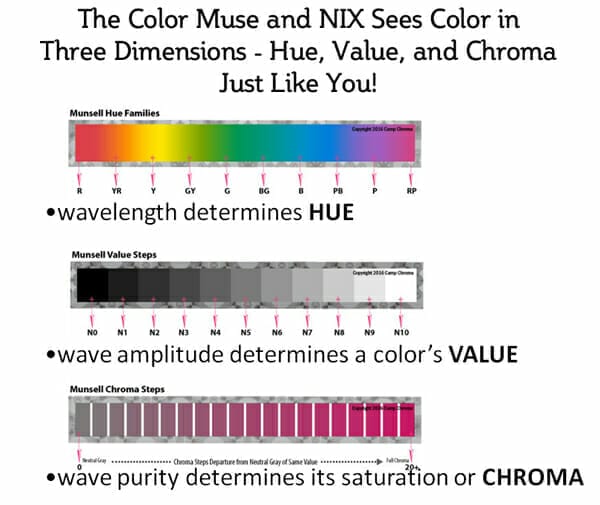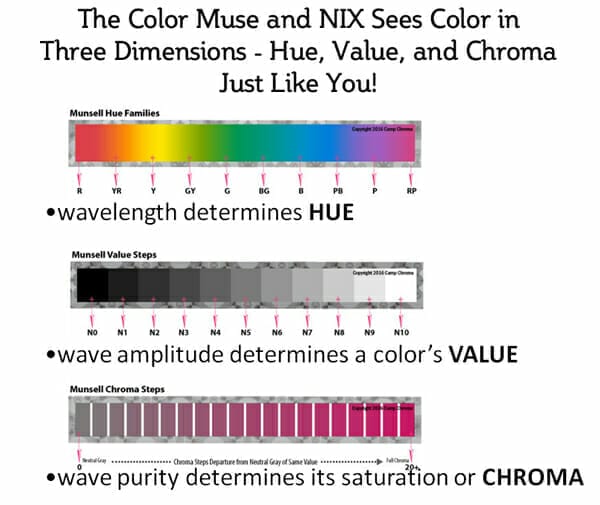 I like to call the information I get from these devices a color's DNA. The strongest wavelength in the color's DNA defines its dominant hue so that's how I know what the color looks like whether it's at The Home Depot, The Land of Color or in your kitchen.
Once I know the hue families of all the key elements we have to include in the overall color scheme, I can get to work finding the perfect colors for you.
Color measuring devices like the Color Muse and NIX Sensor were designed based on how the human eye sees color. If a color palette makes sense from a hue family perspective under these two light sources, it's likely they'll work in a variety of lighting conditions.
I don't have to come to your house to see what you have to work with because I know how to use a colorimeter to measure material colors using different light sources. No guessing required because I can use a hue family notation that tells me what I need to know.
This is just one way online color consultations can work. Your situation may be different. Contact me to set up a time to chat about your project and how I can help.
You might find these blog posts interesting too: