Podcast: Play in new window | Download
Do babies cry in yellow rooms? Fellow Color Consultant, Beth Burns, tracked down this article quoting Carlton Wagner, Color Psychologist.  It's evidence that this myth is based on Mr. Wagner's personal opinion of the color rather than actual fact or scientific studies.
He also said the brand Giorgio perfume was making a huge mistake by choosing yellow for its packaging.  I don't know about you, but this yellow and white striped box is an '80's icon for me.  I personally owned several bottles of the stuff and never considered "declassifying" or "inexpensive" when purchasing.
Yellow is a messenger that gets your attention.  Here's an example of classic OSHA standards caution tape.
More Info:
The Occupational Safety and Health Administration (OSHA) requirements are often non-specific with regard to size, color and wording of markings. To provide uniformity among organizations and industry, the American National Standards Institute (ANSI) has designed color schemes and sizes for marking hazards. (See EZ Facts Document No. 201.) The color code identifies the type of hazard, which helps the employee identify the level of severity. It is meant to reduce the possibility of injuries. OSHA outlines the color code for marking physical hazards in 29 CFR 1910.144. In areas where OSHA does not cite specific requirements, the ANSI standard is followed. The following chart represents the color codes of both ANSI (Z535.1-1998) and OSHA.
Does the yellow box make Cheerios more cheery?
Rachel and I both recommend this book if you're interested in one author's adventure tracing color across the world.
Monticello™ Yellow by Ralph Lauren.
Using light-reflecting pigments to recreate the luster of the original paint, Ralph Lauren's newest shade lends depth and an inviting warmth to any décor.
More about yellow.  Click onpicture to read Rachel's prior blog post about yellow when she was a guest blogger on Decor8.
School bus yellow is a color which was especially formulated for use on school buses in North America in 1939. In April of that year, Dr. Frank W. Cyr, a professor at Teachers College, Columbia University in New York organized a conference that established national school-bus construction standards for the U.S., including the standard color of yellow. The color is now officially known in Canada and the U.S. as National School Bus Glossy Yellow and was originally called National School Bus Chrome. The pigment used for this color was, for a long time, the lead-containing chrome yellow. The color was adopted by the National Bureau of Standards (Now the National Institute of Standards and Technology) as Federal Standard No. 595a, Color 13432.  Source
Click onpicture to read a recent and comprehensive article about the story behind yellow fire trucks.  On the podcast we agree that fire trucks are simply supposed to be red.  Period.  And this quote sums up exactly why we feel that way:
What's most important is the ability for drivers to recognize a vehicle for what it is rather than its colour, says report.

---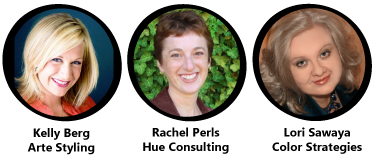 Kelly, Rachel and I share our extensive color knowledge and experiences. ColorPodz are a unique window to leading-edge, professional color perspectives.
---