Podcast: Play in new window | Download
Yes?  Then you are among an estimated 2% of the population.  If you aren't sure, here's a test that supposedly helps determine if you have the condition or not.
Synesthesia is described as a mixing of the senses or as seeing colors where they otherwise would not be.
I've included some pictures and links to go along with the podcast. It goes a little longer than is typical for us – 40 minutes.  We had a lot to talk about.
Enjoy!
Piet Mondrian 1872 – 1944
Period/Movement:  De Stijl Movement
Set Design for DIE FRAU OHNE SCHATTEN by David Hockney
Update 4/21/2011
Color Bud Debra Disman emailed links to her blog posts about synesthesia.  I wanted to tag the links on to the end of this post (even tho it's not mentioned in the podcast) because it has some fab additional info.  Thanks, Debra.  Here are the links to more info about synesthesia on her blog, Artissima:
Artissima on Synesthesia Part 1
Artissima on Synesthesia Part 2

Want the ColorPodz team to host or speak at your next event? We are available for speaking engagements. Email: bookbudz@thelandofcolor.com
---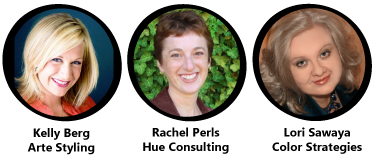 Kelly, Rachel and I share our extensive color knowledge and experiences. ColorPodz are a unique window to leading-edge, professional color perspectives.
---
©2010 Color Strategies, LLC