Painting upholstery with regular gallons of waterborne paints has been done expertly by several of my fellow decorating forum members.MAGNAVERDE (who in real life is an interior designer and has a real name) is the pioneer of painting upholstery. Instructions for this raspberry painted sofa is just one of many talents that has made MAGNAVERDE online legend. Copy of instructions at end of this post.
The results I have seen posted online and on the forums are spectacular and leather-like in appearance. Like this pair of "paint and fabric" chairs from Redesign Diva.
Ever since I painted my home office Blue Ground by Farrow & Ball, I've been thinking about adding a couple of chairs just to the right of this door.
I have these two chairs planned for the space. I could reupholster but painting the fabric would be so much more interesting.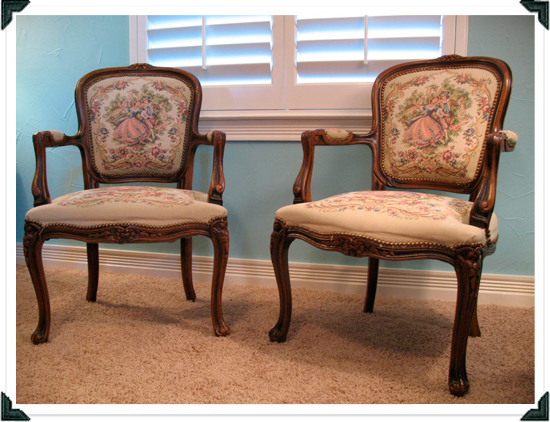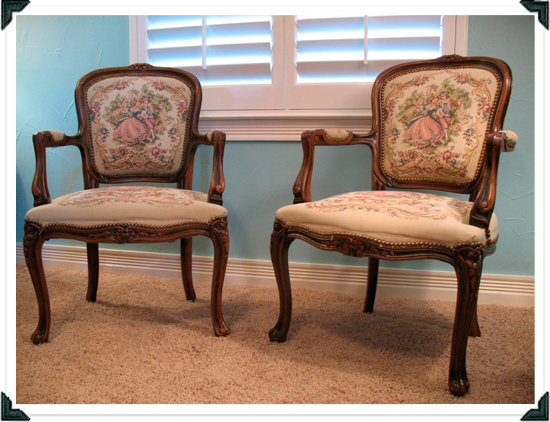 Here's a single chair close up. Lots of tacks!
If I don't like how the paint comes out, I can always reupholster, right? The weather is perfect this time of year and ideal for a project of metamorphosis-like proportion.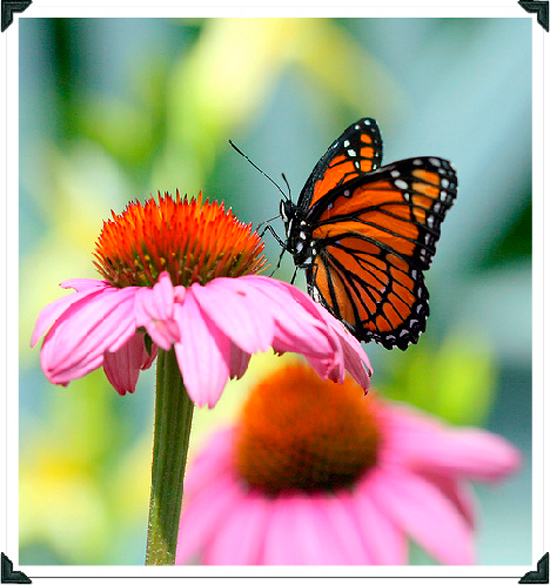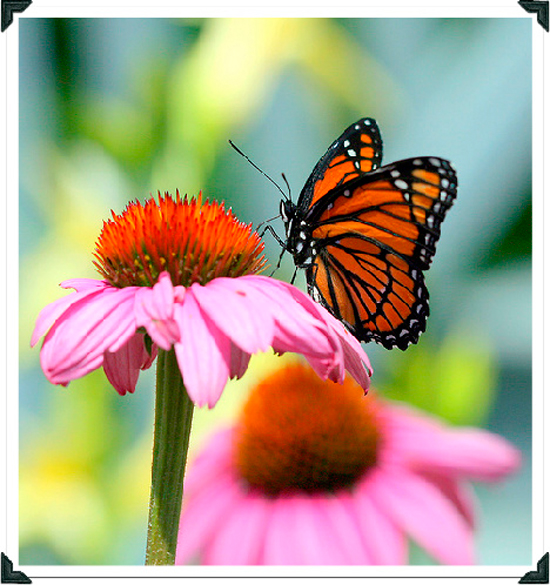 I write all posts for decorating forums in Word first and I've saved many. I dug through CDs of forum posts and found MAG's instructions. I posted them below so you can see what's involved. So. Do you think I'm crazy? Should I try paint or just reupholster?
---
MAGNAVERDE's Painted Sofa How-To
Forget all that nonsense about teensy bottles of expensive paint medium from the crafts store. You don't need anything more than regular latex semi-gloss paint–and a lot of guts. I found a beautiful Baker Chippendale camel-back sofa, with cool curved arms and a fat down cushion, but it was covered in a hideous glazed chintz in the ugliest colors I ever saw. I found some great yellow wool damask to reupholster with, but it would have cost me $3OOO just for the fabric and trim, so I painted my sofa instead.
Everyone freaked out when I told them the plan, but it worked. I was planning on painting my living room dark green, so I decided to go with red leather. First, I painted the whole thing with bubblegum pink semi-gloss latex paint, using the widest foam brush I could find, and brushing it on in long strokes front-to-back and up + down… Think of that as the primer coat.
I let it dry 2 days, and sanded it super lightly with fine-grade sandpaper to get rid of the burrs–and there were a lot of them. When I couldn't feel any more sharp things, another coat of paint, spread thin. Dried and sanded again. Then spread–with my hands–a thin coat of raspberry red semi-gloss paint I had deadened a little with brown to make it a little less vivid. Because it was a deep color, there wasn't much white filler in the paint, so it was almost like a glaze or stain, instead of paint, which is just what I wanted anyway. I just smoothed it on, like suntan oil, and worked it into the pink paint. I let it build a little thicker at the back, on the inside of the arms and at the back edge of the loose cushion, so that the paler, thinner red took on an air of wear at the high points.
I let it dry 2 days, then CAREFULLY sanded the few new sharp things, and touched up those spots with my fingers. I let it dry 2 days, then waxed the whole thing with regular paste wax. After it was dry, I polished with a soft cloth, then dusted with talcum, and vacuumed it all off. It was a little stiff the first few days, but now it not only looks like red leather, it feels like it. This worked great on my ugly glazed chintz, and probably would work on any smooth fabric, except that some may have more burrs and therefore require more sanding, but I wouldn't try it on anything with a heavy texture. And no, the paint doesn't peel off. And no, it's not stiff, either. Think about it–it's latex paint, and essentially, that's what's in those little bottles of fabric medium.
©2010 Color Strategies, LLC
We know color. We customize environments and create unique atmospheres exclusively for you. Take the first step now. Email or call 915 • 490 • 2921.